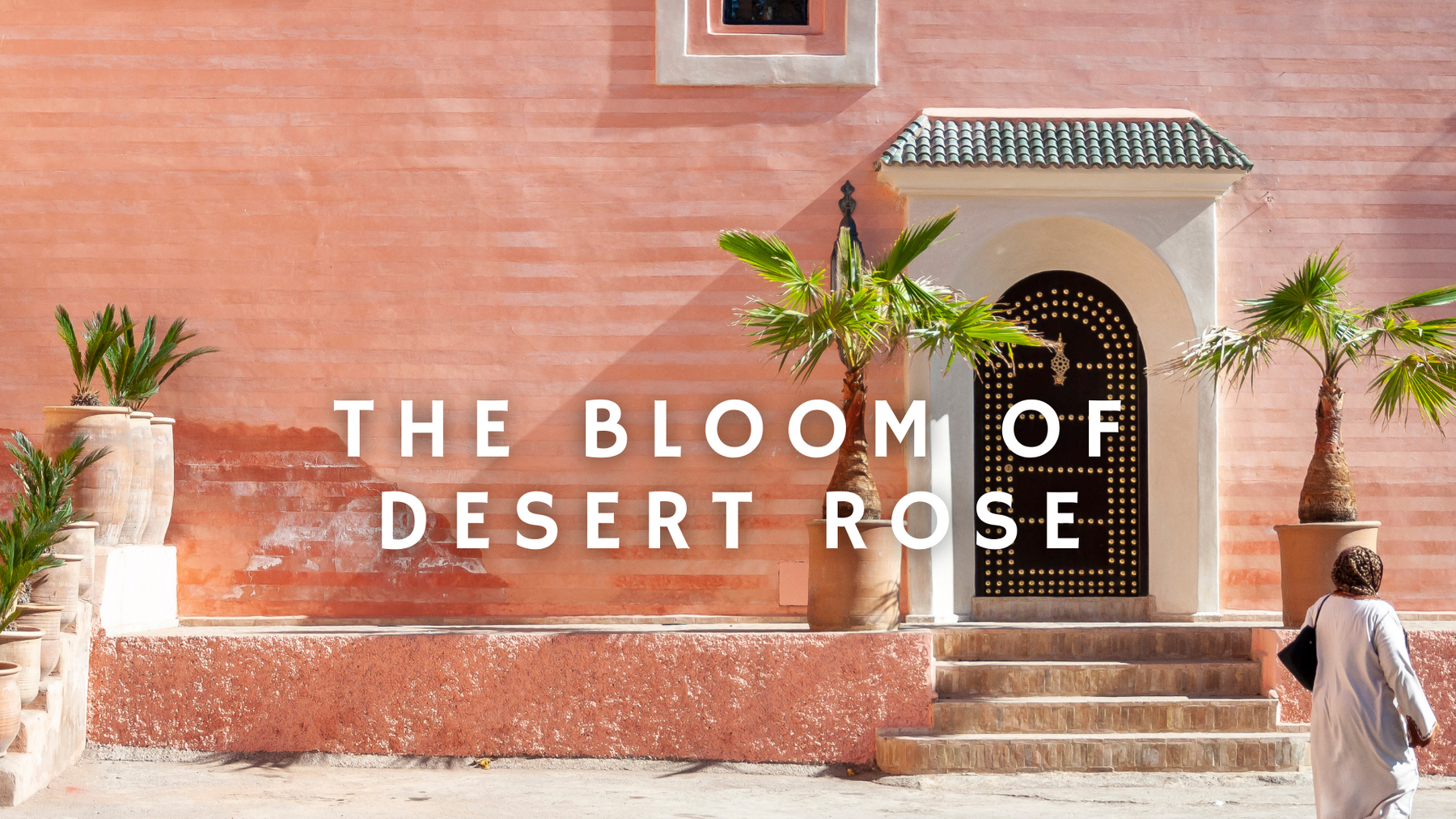 The Bloom of Desert Rose
With the release of Desert Rose fast approaching, my desire was to also showcase the expert craftspeople behind the collection. I was so excited to visit the block printing factories in Jaipur last week, getting to see these skilled artisans in action. 
To say I was overwhelmed is an understatement. Not only did we witness the production of a print from scratch, but we also witnessed a team grounded with a strong connection, built upon a long heritage of block printed art. 
No technology is in sight during this process (except our iPads and iPhones we captured these photos with!). The print that I am wearing was made from scratch, starting with one long bolt of beautiful white cotton, which was then hand-stamped with three unique blocks. These stamps were chiselled out of a block of wood, the process painstakingly detailed.
The care and craftsmanship doesn't stop there. On the first block was a blue paint made from eyesight, the artisan staring at my dress, his eyes calculating the exact formula to recreate the perfect shade of blue.
Once the first stamp was complete, it was followed with two more unique blocks, both of which fit perfectly over the top of the previous layers in succession. To achieve this effect, you need to line it up from one corner, ensuring the perfect symmetry before stamping over the first later. It is a delicate balance, with any movement causing error that could ruin the effect. My own attempts at doing this took time, my lack of speed not translating to accuracy – I wouldn't be an asset to the team, my bolts of fabric would need to be thrown away and restarted, slowly creating a discarded pile on the floor! When the skilled team gets to work though, the effect is stunning, a depth and dimensionality to the fabric that cannot be otherwise achieved. That care and hard work translates to the final product, each item of clothing a unique piece that carries an indelible story.
To watch the artists at work with such skill, whether it was mixing colours or uniformly inking the blocks to eliminate streaks, was amazing. The precision was incredible, combining the attention to detail and consistency with an imbued sense of personality and history. The intuitive calculation of colours and symmetry was mind-blowing. I had never seen anything like this before. 
I feel privileged to have this technique become an integral part of the Naudic story. It is thanks to our wonderful partners in India that we can experience the whole process of a Naudic garment, from the crafting of the stamps to the final sale. 
I managed to explore Jaipur on foot, despite it being 39 degrees. I also got to again ride a Tuk Tuk – an exciting event, as it's my favourite form of transport, that had become almost romanticised during my two years of Australian confinement. It was a joy to be able to see the sights of the city again, from the bustling daily markets to the Nahargarh Fort at dusk. When we arrived in our little four-wheel drive, the fort was decorated with fairy lights. Couple this with the breath taking architecture, and I felt like I was in a scene from Game of Thrones. This beauty can be found throughout Jaipur, from the city palace to Hawa Mahal, all structures built by nobility for their parties and accommodation. 
During this trip, we stayed in an original haveli (a traditional townhouse or mansion). It has been in the family for 250 years, passed down through eight generations. It is a place with an inescapable sense of tradition and history, where a matriarch insists on a sit-down dinner every Sunday, and familial warmth can be found in every room.
It was in Jaipur that a new era began for Naudic, filming a tourism advertisement five years ago (you can read more about that in Embark). To return now, after two years of solely being at home, is to gain a deeper sense of the work behind-the-scenes of Naudic, that unfolds in the outskirts of Jaipur. Behind this collection are artisans who possess a skill that could never be replaced by technology. It is endlessly inspiring. 
Desert Rose launches on March 30, with prints named Willow, Phoenix, Rose Ivy, and Peony. Look for them in all your favourite Naudic shapes, as well as new shapes that we have grown to adore (I hope you do, too!).
I hope you enjoyed this story, of the bloom of Desert Rose. Remember, the garment you are wearing is made by loving hands, and no two pieces are alike.