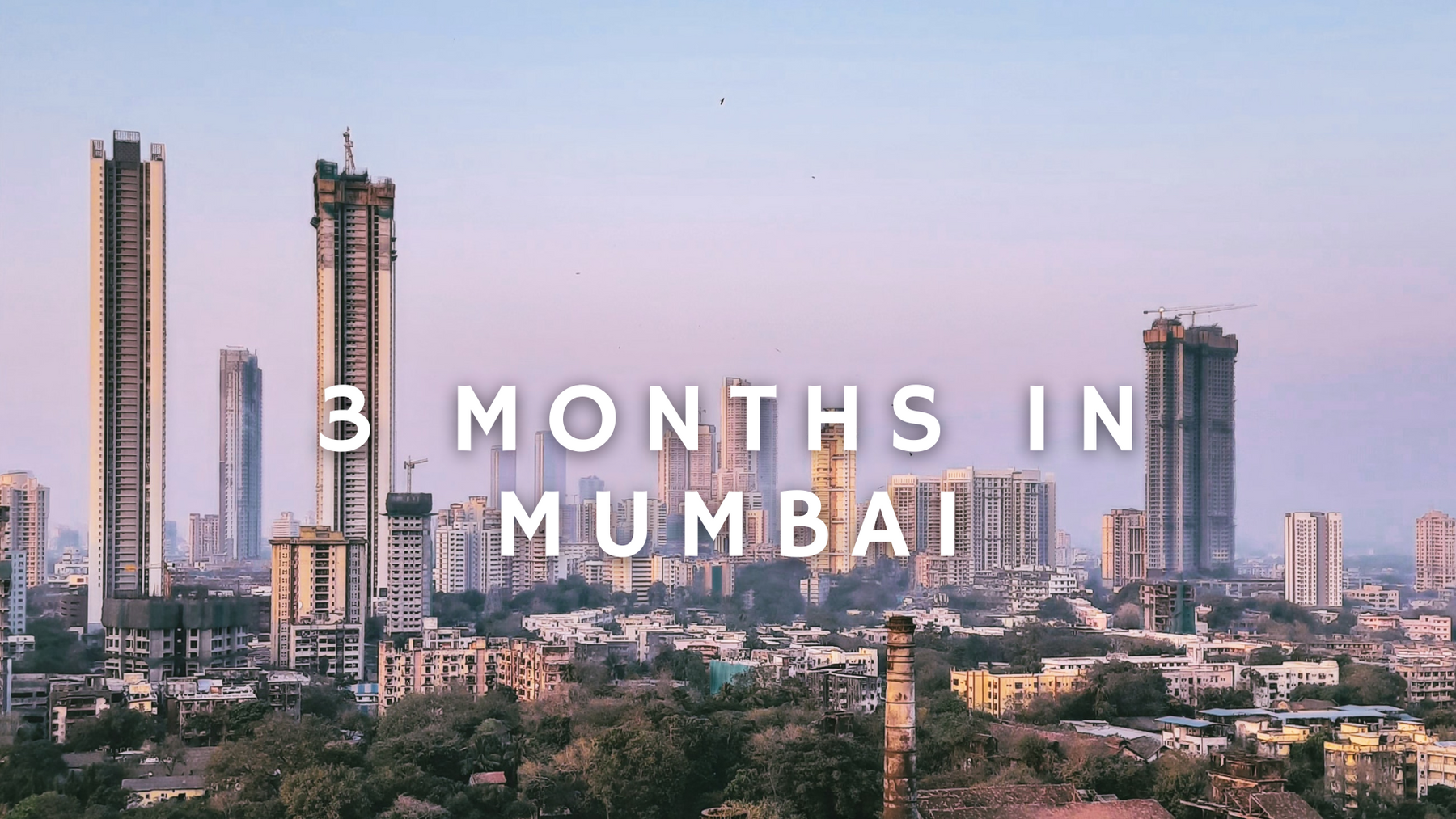 3 Months in Mumbai
I didn't know what to expect when I left for India on March 6th. Heading straight to Mumbai was a last minute decision, and at the time I had just one close friend in the city (plus a new supplier I had begun virtually collaborating with during lockdowns). However, my life has been a series of leaps into the unknown, that catapulted me into exciting, new chapters of my life. By now, I should've known that this unexpected trip to the densely packed city - with a population just shy of that of Australia - would keep with that theme. Suddenly, it was time for a new chapter for myself and the business. 
I stayed at Abode, a heritage building decorated wholly with upcycled materials, including handmade art deco floor tiles; and became fast friends with the staff. My first two days were a time equally replete with discomfort and discovery, not journeying out of my room (except for snacks and water). After two years in Australia, spent mostly at home in south-east Queensland,  I was feeling foreign in this new city of many millions. However, it didn't take long to see that I was in a city that can do most anything, buzzing with life, a mixture of British Colonial influences and the bright lights of New York. India is a powerhouse, the centre of the universe. All hands and minds are busy, whether they are creating something tangible or intangible. I was blown away by the energy, a sense of making up for the two 'lost years' of the Covid-19 lull. It's an entrepreneur's paradise, a commitment to trying new things permeating the atmosphere. It was the perfect place to plot Naudic's next move. First, however, I had to finish the summer collections – the new shapes, trims and detailing - ready for the samples to be shipped to our agents. 
A typical day in Mumbai started at 7am at the Abode. Stepping outside, I'd walk along Marine Drive - also known as the Queen's Necklace - and stop at my favourite coconut water stand. Then, I'd go to gym and sit down for a house made Indian breakfast. By 11 I was in an Uber, going to a supplier's showroom for a full day of work, that is only interrupted with homemade food at 1:30pm. When work ended at 6:30pm, my fast-paced day continued, meeting new friends at cafes dotted throughout the city, or Zooming in (the wonders of the time we live in!) live from India to the TV shopping channel. One of the highlights was being invited to the Bombay Times fashion show, sitting in the front row to view collections from local designers.
After two weeks of settling into a semblance of a routine, we set off for our first (of many) sourcing and collaboration trips. Heading straight to Jaipur - the pink city, jewel of the desert - we met the artisans and factories that had been producing the ranges during the last two years. Nights were filled with sightseeing, visiting the Nahargarh fort, that sits atop the city like a jewelled crown. 
Boutique museums in Jaipur offered displays on the history of cotton and block printing, visits punctuated by spontaneity. During one such visit, there was impromptu concert happening in the courtyard, with musicians playing traditional instruments. Women appeared, fully dressed in saris of every colour, to take in the spectacle. It was a flurry of colour, music and connection. 
Spending three months in India was like making up for lost time, getting back into the momentum of life.  Even though I'm now home again in Brisbane to restore and recharge, seeing all the new prints and reconnecting with my friends and family overseas, renewed my creative energy. Plus, I also made many new friends and collaborators, both in India and also on side trips to Mexico, England, and Spain (tales to be told in future blogs!). 
While it took a lot of energy to get going again and dive into the unknown, this return trip to India was one of the best experiences of my life. Three months on the road, squeezing in as much as possible, really filled up the creative tank. I had been separated from my source of inspiration - travel and discovery - for too long.
This week, I'm packing up for round two. Life has picked up to what it was before 2020, with lots of new places on the agenda. It's been a long time between adventures, and I'm relishing every moment.