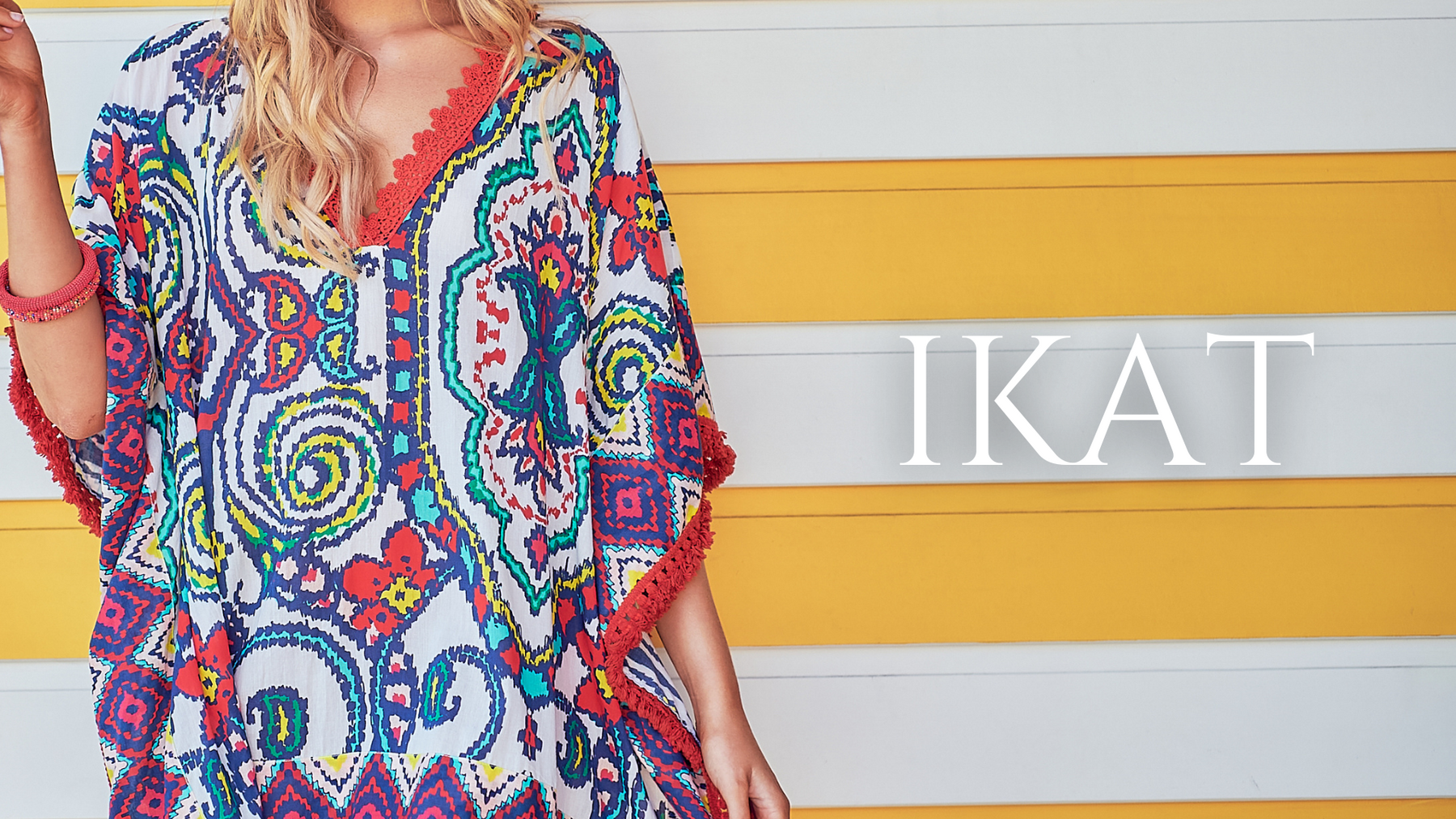 The Evolution of Ikat
This was the first Naudic prints we designed on my first ever trip to India, when I knew nothing about  anything regarding manufacturing or producing in a foreign country.  

I had ideas of what it was I was looking for, I loved the design concept of Ikat, but we wanted something modern, fun, bright, something that looked like Naudic's signature design. Which was still evolving. 
We made our classic shapes in this red and navy-blue colourway, it was so beautiful, we printed hundreds of meters of this fabric that summer in 2016. It was a print that grew our business into it's own look. Ikat is now part of our story. 
The following year I took that print and all the samples to Miami, a long haul, hours and hours of  travel, but worth it. A small 3x4m stand at the Miami Swim Show, we received great orders. The first  night was a cocktail party at one of these funky beach hotels that you see in the movies. 
I think the combination of jetlag, excitement and not usually being a big drinker, we got dizzy by the house cocktail. I'm so happy we got home that night, had a couple of hours sleep before heading straight back to the show the next day, wearing the same kaftan. 
Quite a few firsts with this print. 
This week we did our next Campaign shoot, we've brought back Ikat in the traditional red and blue,  plus two new pop colours. It's time to reinvent some of our bestselling prints, for more to enjoy, if it was a favourite seven years ago, now there are two more colours to choose from, pink and aqua. 
Thanks to digital connections we are now back in Miami. The Ikat samples are with the agent in Miami and she is so excited and ready to go. Thanks to connections and the digital world of reaching out, we  are about to start the selling season from the 27
th
September, I'm so happy this will be our third time  launching in the USA. 
I've learnt so much since running this brand. One, get to know your agent through recommendations, it is thanks to  Rosie one of Naudic's first USA customers that introduced us to this agent. Also label the goods  properly, I've been detained at LAX for not doing this, which caused a lot of extra running around. Great for the waistline, not for the heart. 
Two, understand the USA delivery market, they want goods for their Spring Summer from mid Feb to mid May, delivery dates are strict. Sizing matters, easy to wear products for resort and street style are attractive for everyday wear.  
Three, attention to details, something I work hard on, trims and embroidery that are unique to our look. Here we are from this week's shoot, Ikat in hot pink and aqua, the new colours.  
Bringing back the originals red and blue, which won't date and are timeless. 
Global digital connections made this happen, India to Australia to Miami, focussed people making  things happen to bring this joyful look back again. Plus, I get to write about the whole experience which I hope will help someone one day to continue doing something and then it falls into place. 
Enjoy the Ikat Collection, and send us any of your favourites we love the feedback and hearing from you.